Are you planning to purchase materials or real estate? Edze Agra has shown to have added value to several projects. Do you have no experience in valuating real estate? Edze Agra is not a real estate office, but will help you in a no-nonsense way.
The value is determined, the approach laid out and prepared together. When everything is as you wish, we proceed to purchase on your behalf. In the past, for various clients, an increase in value has been achieved when purchasing agricultural businesses, construction sites and machinery. Edze Agra does not only broker large, but also smaller purchases, like cattle feed or other goods, such as breeding materials.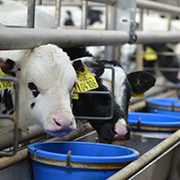 "In the beginning of 2016 we came in contact with Edze Agra BV. As a young businessman, I've always had the dream to start my own calf farm, but how would you start something like this? Doing this on my own was quite a challenge. People around me were extremely encouraging, but thought I should seek out help from someone to purchase a location, make a business plan and develop my plans for the future. Edze Westra was the right person for the job. His advice is excellent, together we made the seemingly impossible possible. In particular, Edze's communication skills gave an edge in the negotiations and the results proved this. Without him I couldn't have done this."
Assistance with financing issues is also among the possibilities. Through our experience assisting in finding financing possibilities, we know how to submit your application with the greatest possible chance of success.
In the field of movable property Edze Agra can also provide assistance. Are you looking for a certain machine, but you cannot find it or are you looking for someone to execute or assist in the negotiation process? We do it all. Tractors, silage machines, feed or breeding materials. We can assist you in the purchasing process so you are guaranteed a fair price for the product you purchase.
Are you considering a takeover, but you would like someone to assist you in this? We are happy to provide assistance. We can provide a fresh pair of eyes regarding the takeover. We ask critical questions and make sure you know all the pros and cons regarding this major step in your life. Curious about our approach? Feel free to contact us for an introduction.